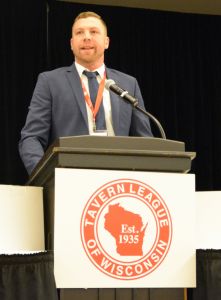 The Tavern League of Wisconsin (TLW), a non-profit trade association dedicated to serving the needs of the retail beverage alcohol segment of the hospitality industry in the State of Wisconsin, announces that Keith Kern, owner of Jimmy's Saloon in Superior, Wis., has been elected to serve the TLW as President for a two-year term.
Prior to his election, which took place last week as part of the TLW 2021 Fall Convention, Kern served TLW as its Eighth District Director and as President of the Superior/Douglas County Tavern League. He has also spent the last five years as a member of the Superior City Council.
Kern grew up helping out at Jimmy's Saloon which his family has owned for 30 years. In 2004, he started managing operations full-time and then purchased the business in 2016.
For Kern, growth for the TLW means a focus on the association as a whole. "Forward thinking and problem solving are going to be key for the future of the Tavern League," he says. "We need to work better at communication on all levels and focus on our brand. People need to know who we are, what we do, and the key part our industry plays around the state to improve our communities."
Kern replaces Chris Marsicano, former owner of Village Supper Club in Delavan, Wis. who served as TLW president from 2015 – 2021.